History
The Nicolai Repair story truly started in 1976 when Leo & Joyce Nicolai opened the shop with one small building just outside Hampton, Minnesota. Coming off of working for a farm implement dealer, Leo saw an opportunity to work for himself and help out friends and neighbors with lawn mower maintenance and repairs of small engine equipment, from snow blowers and lawn mowers to chainsaws and weed whackers.
Over the years, Nicolai Repair has grown over the years to what it is today and with the support and expansion of additional larger brands such as Snapper, Honda, Hustler, Kohler, Scag, Shindaiwa, Briggs & Stratton along with many more and the demand for our repair, maintenance, and sale of equipment has grown. Our shop has grown to include additional warehouse facilities and a large showroom of 12,000 square feet to guarantee that our customers get the services they need.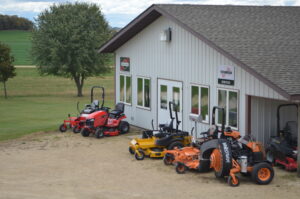 Business Philosophy
Our goal is to offer our customers, who are like family, the best sales, maintenance, and repair services for their lawn mowers, snow blowers as well as other small engines and machines. Our business was established on the importance of family, which is why we always make sure with our customer service to provide high quality support.
Values
Integrity | doing our best for every client, every time.
Efficiency | quoting appropriate time for repairs and following through.
Expertise | knowing our machines – and every brand we carry – inside and out.
Service | providing the highest quality service possible for all of our clients.